Pat Quinn, one of the most renowned hall of fame NHL Hockey Players has passed away at the age of seventy one. This came as a shock to many people across Canada & the United States of America. In Canada Pat Quinn was a man who influenced multiple generations of young children into pursuing hockey. He co-owned the Vancouver Giants, a Major Junior Ice Hockey Team that saw children who couldn't afford to play the sport get the best equipment due to Mr. Quinn. Pat's efforts resulted in a couple of his students becoming NHL Hockey Players as well.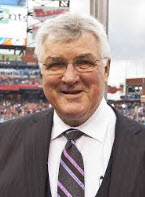 A community in Toronto that were greatly impacted by Pat Quinn have been morning his passing for the last couple of days. Mr. Quinn trained multiple people who would eventually move to Toronto, Hockey Bars across the city have been filled with people reminiscing about his life and what he has done for the hockey community. It's incredible to see that a community of people who don't know each other have come together to experience the memories of Pat Quinn. Even in his afterlife he is still bringing people together and creating new friendships with people.
You never see the passing of a professional hockey player effect the hockey community as you have with Pat Quinn's passing. He is someone that will stay in the hearts of dozens & dozens of people across Northern America, he will forever be missed and you can be ensured that he is resting is the most beautiful of places in the afterlife.