The CN Canadian Alumni Challenge Game is a game that has been played since 2002. Its birth has been able to provide more than $2.75 Million to various charity organizations in Canada. This charity game alone was able to raise a total of $400,000 through various donations last year. This year it's expected that these donations will exceed past the $500,000.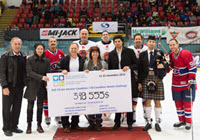 Last year this single hockey game which is played against the Montreal Canadian's home and farm teams were able to donate to eleven different organizations. These included The Childs Hospital Foundation of Manitoba, Winnipeg Harvest, The Dream Factory and the Rossbrook House of Benefactors. These are just four of the eleven charities which receive donations from this hockey game.
This game has now been played for the last thirteen years and throughout it, has drastically improved the lives of multiple people. Doors for this game open at 1:30 P.M. and the tickets will only cost $10 per person. All money earned via vendors, stands and more will also be given to the charity game.
This game is slated to be one of the best as some returning stars are lacing up once against just for this charity game. Eight season player, Mike Keane will be putting on the Canadians uniform once again just for this charity game. This will be played at the Montreal Canadians Arena. One of the best aspects about this hockey game is that anyone who brings their children, as long as their under the age of ten they shall get in free. Donate to this incredible cause and see an incredible game of hockey at the same time.