The Los Angeles Kings stand as the new Stanley Cup winners for the next year. After playing an incredible five part series against the New York Rangers. This is the second time that the Los Angeles Kings have been able to reign supreme as the Stanley Cup winners within the last three seasons. There hasn't been a hockey team that has been to accomplish this in nearly four decades.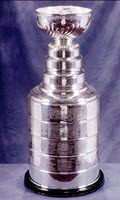 The fifth and final game in the series was a heart breaker for everyone in New York. The Rangers had tied the kings 2-2 which meant there was a possibility to a sixth game to occur. Unfortunately for the rangers they didn't win as Alex Martinez scored on the rangers goalie with nearly minutes to spare in the third period. Any team that has won the Stanley Cup gets the right to hold a parade in their home town, this allows for all of the fans to see the cup that their team has won and see all of their favorite players at the same time.
Last weekend the Los Angeles Kings had their parade, having confetti and millions of people join them. Camera crews and movie stars all attended this parade.
Alex Martinez commented on his teams Stanley Cup win saying, "Hard work and intense training truly does pay off, we wanted to be the first team in four decades to win a Stanley Cup twice within three seasons. We have now accomplished that goal and hope we can remain as the Stanley Cup champions come this time next year."