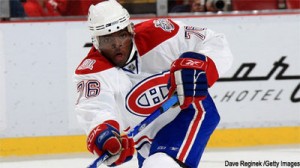 P.K Subban has chosen to re-sign with the Montreal Canadians for a 2 years deal worth a reported $2.875 million per year. P.K Subban is a talented defenseman and is major force with the Canadians. Subban had missed training camp this year and four games of the shorten season due to a disputed contract.
Subban is quoted as saying "I am thrilled to be back with the team and wish to move forward and help the team win.  It was important for both sides to get a fair deal and in the end that was what happened" P.K will rejoin the Montreal Canadians this coming Wednesday for its game against the Ottawa Senators. Whether he plays then or not has yet to be decided but he may not hit the ice with team mates until the next home game against Buffalo.
Subban stated that he worked hard to stay in shape and trained with the OHL's Mississauga Steelheads. Subban stated "I'm ready to play and to get back onto the ice. I'm always ready to play hockey"
P.K Subban played an average of 24 minutes per game last season and scored 7 goals with 29 assists in the 81 games he played in. He was 7th for defensemen in the NHL with 206 shots on goal.