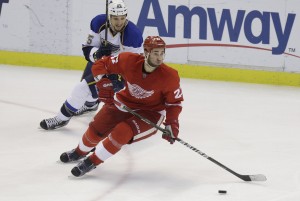 The Red Wings has said that Kyle Quincey received some positive news from his doctors this week regarding the injuries hesuffered 10 days earlier when struck in the face by a puck. He suffered several broken facial bones and Doctors has said the heeling will not progress any faster through surgery and those injuries will heel faster on their own.
This was a scary incident for Kyle Quincey and the Red Wings. The day of the positive news from Doctors came on a day when Quincey was experiencing a high level of pain and was reassuring news to receive. The injury occurred during the 3rd period against Edmonton on the 15h of March. Quincey continues to struggle with eating regular foods due to pain and the inability to chew properly. He continues to experience pain and sinus issues relating to the fractured bones.
It is hopeful he will return to the lineup within the next 14 days once his injuries have heeled more than they are currently.