The Boston Bruins, one of the best hockey teams known to the National Hockey League revealed earlier on this week that David Krejci is getting a six year contract extension with the team. This extension will allow for Mr. Krejci to earn a total of $7.25 Million per year, this information was revealed on Thursday.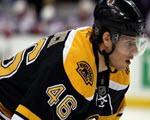 This didn't come as a shock to many as last season David Krejci was one of the best players that the Bruins had on the ice. He scored a total of nineteen goals last season with 50 assists. He is ranked thirty seven in the NHL Best List. He was one of the leading scorers for last season, his effort ensuring that he would remain on the team. No one imagined it would be for a six year contract extension though.
David Krejci isn't your average professional hockey player. He was a second round pick in the 2004 NHL Draft. As a veteran of ten years he has accumulated a total of 110 Goals and 268 Assists, playing a total of 504 games all with the Bruins. He was one of the key players when Boston won the Stanley Cup back in 2011, during the playoffs he made twelve goals and eleven assists.
David Krejci is now signed under contract to play with the Boston Bruins until the 2020-21 National Hockey League Season. He will be one of the few professional hockey players that has spent his entire career playing with one team.