The Detroit Red Wings announced toward that key goalie Jimmy Howard is on the injured list with an unspecified upper body injury. This is bad news for Detroit who has seen a number of key players injured and out of commission.
The injury occurred with less than 9 minutes left in regulation time on Tuesday night at the Bridgestone Arena. This saw Jimmy Howard, Detroit's starting goalie, skate over the Red Wings' team bench and then be taken to the team's dressing room. Jimmy did not return for the duration of Tuesday's game against the Hurricanes.
Early information being released about Jimmy's injury is limited other than it being called a "upper body injury". Red Wings coach Mike Babcock is only saying that Howard will undergo tests on his injury sometime on Wednesday. Jimmy got hit during our practise session that we were unaware of. From all account Jimmy wasn't seeing very well. It wasn't until I was watching the game that I became aware of this. We chose to make the switch and take a proactive position to ensure additional injuries would not be sustained. As reported from the Red Wings club website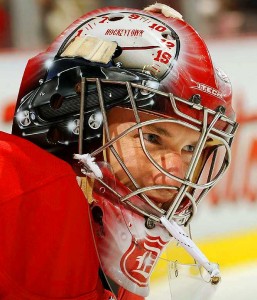 .