Almost one year ago a sixteen year old boy had died while playing hockey on the ice. After a long needed autopsy it was found that Jordan Boyd had died due to a heart condition unknown to doctors. He fell to cardiac arrest on the ice and wasn't found for nearly nine hours as he was running drills on the ice by himself. Today Jordan Boyd's legacy continues to impact those in the Bathurst area, bringing the community together to remember his memory.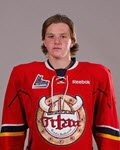 The father of Jordan Boyd, Stephen Boyd spoke to Atlantic CTV News saying, "It has been an incredibly hard year for my wife and myself. When Jordan passed away we both didn't know how to cope with what had happened and we found ourselves in a state of depression that neither one of us has ever felt before. Jordan was so loved by his family and friends, we still to this day don't understand why he was taken from us and all we can hope is that we will see him again in the future."
This story gained so much attention from the Hockey Community that even Boston Bruins forward Brad Marchland has showed his support to the family. Brad Marchland trained with Jordan Boyd while he was younger, once he found out that his former student had passed away he quickly dropped everything to attend the funeral and be there for the family. Jordan's death has allowed for more than $100,000 to be earned towards funding research for unknown heart conditions.