Gordie Howe is the former Right Wing for the Detroit Red Wings, originally from Canada he is now eighty six years old and has unfortunately suffered from a massive stroke as of last Thursday night. Mr. Howe's daughter Cathy told the press of his condition, noting that he has lost complete function of his right arm and right leg. Due to his wealth there is a chance that he can get all the help he needs in order to still function is society on a regular basis but none the less it has greatly affected the family and Gordie.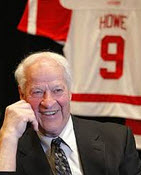 Cathy Howe also noted that her father has been making an extreme effort in order to battle the effects of his stroke only days after he was relieved from the hospital. His speech which is slurred is slowly becoming better as he has been repeating every word to himself in order to better his speech. He has also been looking at all of the old pictures from his playing days in order to ensure that he doesn't forget about the most memorable time of his life. His three sons have also taken time off work in order to help their father get all the medical attention he needs and to also keep his mind exercised.
Gordie Howe was the best hockey player in history before Wayne Gretzky surpassed him, he had a total of eight hundred and one goals with the majority of them being with the Detroit Red Wings. He retired from the league for good at the age of 52, he acted as a coach and a leader for many professional hockey players still in the league.