The Detroit Red Wings have opted to reassigned Calle Järnkrok gets reassigned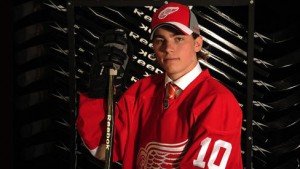 from to the Grand Rapids Griffins. Calle Järnkrok was the Red Wings fifty first pick during the 2010 draft and has played 53 games in total for the
Detroit's second choice (51st overall) in the 2010 NHL entry draft, Järnkrok skated in 53 games for Brynas during the Swedish Eliteserien in 2013. T Järnkrok has scored 13 goals and earned 42 points so far this season. Järnkrok, 21, is from Sweden and played a total of 185 games since joining the Brynas in 2009. He has amassed a total of 74 assists, 44 goals and a total of 40 minutes in the penalty box. In the 2011-2012 season he helped the team take the championship and earned an impressive 16 points during the playoffs.
Järnkrok, who stands at 6ft and weighs in at 176 pounds player center and also has played in international games representing Sweden. This included the 2011 world juniors which resulted in a silver medal and also for the 2012 worlds. He will be joining the Griffins this week with his first game being against San Antonio.
Järnkrok joins the Griffins as they prepare to continue their season-high seven-game road trip with three games in three nights this week. Grand Rapids will visit San Antonio on Thursday at 8 p.m. EDT, Houston on Friday at 8:05 p.m. EDT and Texas on Saturday at 8 p.m. EDT.