If you are a owner of either an Xbox One or Xbox 360 then there is a good chance that you've already experienced the "Call of Duty: Ghosts Devastation Map Pack" already. The reason for this is because every bit of DLC that is released for Call of Duty goes on the Xbox before the Playstation. This is because Microgaming and Activision made a content supply deal more than four years ago.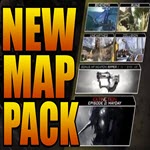 Today Infinity Ward announced that the Call of Duty Devastation Map Pack will be released on the Playstation 3 and Playstation 4 on May 8th. The map pack will sell for $15 dollars and will give you four new maps to enjoy. One of the highlights for this map pack is that you receive a new gun that isn't just a sub machine gun but it also an assault rifle at the same time. The gun which has been called "The Ripped" can switch between the two kinds of guns. This way if you see another player from a far distance you can shoot with the Assault Rifle but if you need to clear out a room quickly you can switch to the sub machine gun. The Ripper is by far the best gun to ever grace call of duty.
As of right now you can go to your local electronics store and purchase Call of Duty Ghosts. You're given an exciting gaming experience that can be replayed for days on end.